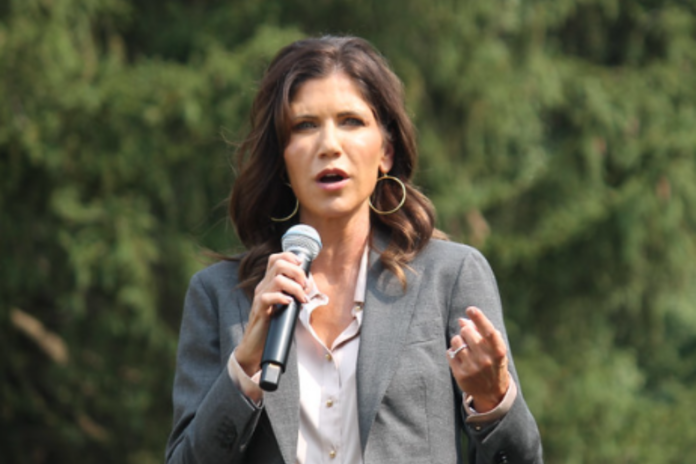 If Donald Trump wins the Republican Presidential nomination he will need a new Vice Presidential running mate.
There is no chance he will run with Mike Pence for a third time.
And this Republican has reportedly shot to the top of Donald Trump's Vice Presidential shortlist.
Should former President Donald Trump secure the 2024 Republican Presidential nomination, it is widely expected that he will pick a woman to round out the ticket.
Over the course of Trump's Presidency, no group of voters has abandoned the GOP in greater numbers than suburban women.
Trump's chances in the 2020 election hinge on shoring up his vote share with this demographic.
One of the Republican women sitting near the top of Trump's Vice Presidential shortlist is South Dakota Governor Kristi Noem.
In an appearance on Fox & Friends, Noem explained that she never mounted the Presidential campaign pundits assumed she would due to Trump's presence in the race making it impossible for anyone else to win.
"The fact is, none of them can win as long as Trump's in the race," Noem said. "And that's just the facts. So why run if you can't win?"
"I've probably run 10 statewide races," she added, even though the real number is closer to six. "I've won them all. I've never lost. If I get into a race, I'm gonna win. So that's just how we do it. And President Trump did some great things for our state and for our country. As governor — and everybody should be grateful for this — he let me do my job. When he was president, he let me do my job, and I appreciate that," Noem continued. "Biden doesn't do that."
Governor Noem then lavished Trump with praise as a political leader, remarking how inspired millions of Americans to join the GOP who never previously had any use for the party.
"He is inspirational," she continued. "People always show up to hear something interesting. And yeah, you'll hear something from me, too."
Noem then addressed the prospect of serving as Trump's Vice Presidential running mate.
Like all ambitious politicians looking to climb the ladder of power, Noem's response revealed that she is desperate for the position, but also doesn't want to be seen as campaigning to be Trump's running mate, as others like Vivek Ramamswamy are obviously doing.
"You know, he hasn't asked me, so we'll cross that bridge — we'll cross that bridge when we get to it," Noem said. "I don't really answer hypotheticals."
"He's going to need somebody that's a good partner that's willing to fix this country, and it's not going to be pretty," she concluded. "So we've got a lot to do."
Of course, the Vice Presidency is important to a Governor of a small state who is looking to climb the political ladder, as Noem clearly does, due to the impact it could – keyword: "could" – have on the 2028 election.
It's easy to assume that being selected as Trump's running mate would be a major advantage in courting Trump supporters in 2028, especially with the support he continues to have amongst voters.
But there's also no denying that if Trump's running mate makes even the slightest wrong move, allowing them to be perceived as being "disloyal" in any way, it could very well torpedo their career on the spot.
It's clear she's willing to take that chance, but should Trump actually nominate her?
Noem did draw praise from conservatives during the COVID-19 hysteria for being one of the only Governors to never lockdown or institute a mask mandate.
However, Noem also bent to woke corporations and initially opposed legislation banning biological males from competing in women's sports, only reversing course to side with science, logic, and reason by signing the bill after coming under fire, but the damage was already done.
She's also come under fire for claiming Trump's trade policy on Communist China had "devastated" the South Dakota economy in 2019, spending tens of thousands of taxpayer dollars on imported rugs, chandeliers, and a sauna for her Governor's mansion, attempting to build taxpayer-funded, government-controlled RV parks to compete with small businesses in the state, and accusations she used her office to professionally benefit her daughter, amongst other controversies.
Nevertheless, Kristi Noem seems to be making her way to the top of Donald Trump's Vice Presidential shortlist.
US Political Daily will keep you updated on any developments to this ongoing story.