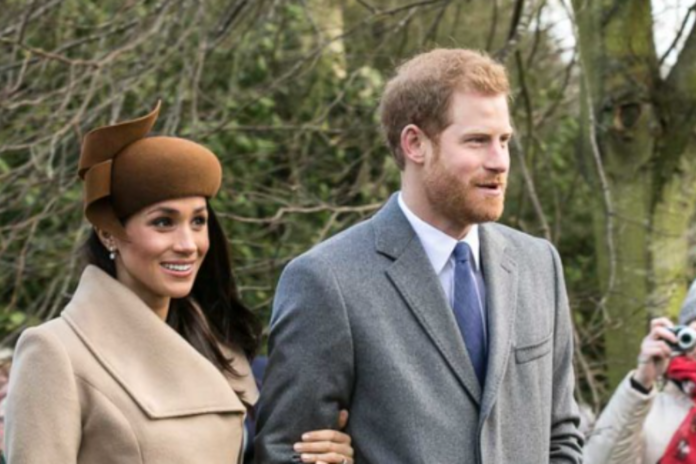 Meghan Markle and Prince Harry have spent all their free time since being married to slander everyone that crosses their paths just to gain publicity. 
But now that the gun is turned on them the Prince and his wife are furious. 
Meghan Markle is convulsing with rage after she was humiliated by this classic American cartoon. 
The ex-royal family just wants "privacy"
Few people have forced themselves more into the news than Meghan Markle and Prince Harry.
We all knew that when the duo got married it was going to be a rough road to hoe for the British royal family. 
Prince Harry had already shown that he was a little bit of an outsider, and when he married the American actress who craved attention, everyone could see the writing on the wall that they were going to leave the royal family. 
In nearly five years since their marriage, the couple has found every way to attack nearly everyone of their family members, even the late Queen Elizabeth. 
The ex-royal couple even sat down for an interview with Oprah Winfrey to promote their fabrications and gain a quick buck. 
Oprah reacts to Meghan Markle revealing somebody in the Royal Family was concerned about how dark Archie's skin color might be. pic.twitter.com/RIc15Adr7F

— Pop Crave (@PopCrave) March 8, 2021
As they cry and play the victim, many speculate that what they desire isn't an apology from others, but rather fame and publicity.
Just look at the fact that  the couple has written tell all books and then demand privacy. 
Prince Harry just came out with his personal memoir entitled Spare, in which he goes into detail about his first sexual encounter.
It's just comical if the ex-royal family thinks they are going to get some privacy.
South Park for the Win
Well, thankfully, a good quality show like South Park challenged Meghan Markle and Prince Harry, and put out on full display their hypocrisy.
If there is ever a cultural issue that needs some comedy, South Park is there to make sure it can bring some humor into the situation. 
And this is exactly what the American classic comedy did for the Meghan Markle and Prince Harry privacy hypocrisy. 
During a recent South Park episode, the Comedy Central show went right after the ex-royal family relentlessly for their demands for a private life. 
And in the scene that is gaining so much attention on social media, Prince Harry and Meghan are seen carrying signs demanding privacy while joining Good morning Canada with a dialogue that ends with Prince Harry claiming, "my Instagram loving b***h wife has always wanted her privacy!"
Just watch the scene for yourself. 
South park dropped a Prince Harry and Meghan Markle episode this week, and there's talk of them trying to get it blocked, even legal action.

Good luck with that, South park plays by their own rules 😂 pic.twitter.com/iMB28Y4Knn

— I AM (@i_Beth1) February 19, 2023
Well this scene reportedly has Meghan Markle raging. 
According to The Spectator, Meghan is "upset and overwhelmed," and is "annoyed by South Park but refuses to watch it all."
Some reports are even swirling that Meghan and Prince Harry want to sue the show. 
Time will tell how this all ends, but you do have to salute South Park for doing what needed to be done for a long time – a reality check for the most annoying couple in the world.