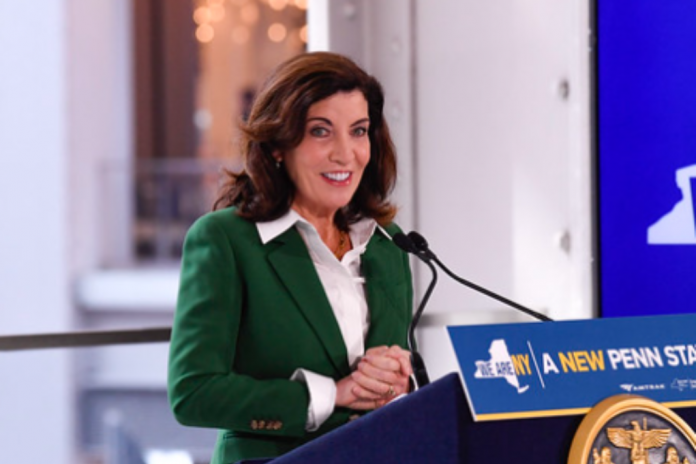 Never before in the entire course of American history have so many Americans surrendered their rights for momentary security as they did during the COVID-19 pandemic.
As a result the federal government and many state governments adopted authoritarian rule punishing anyone who stood in the way of their often unfounded COVID guidance.
And Kathy Hochul went bananas after this eye-popping Supreme Court ruling rained on her authoritarian parade.
New York went all-in on authoritarianism during the COVID-19 pandemic
COVID is once again starting to spread across the nation, causing many to discuss what sort of precautions must be taken.
Many Americans are extremely cautious about going back to the way things were during the COVID pandemic, given the authoritarian measures that many states and localities adopted.
The state of New York, for example, enforced vaccine mandates with an iron fist, ruthlessly disposing of many qualified workers who did not want to get the vaccine for any number of reasons.
However, last Wednesday, in a victory for those who believe in medical freedom, a New York Supreme Court Justice ruled in favor of 10 New York City teachers who were fired for not getting the vaccine.
"This Court sees no rational basis for not allowing unvaccinated classroom teachers in amongst an admitted population of primarily unvaccinated students," State Supreme Court Judge Ralph J. Porzio wrote in the ruling.
"As such, the decision to summarily deny the classroom teachers amongst the Panel Petitioners based on an undue hardship, without any further evidence of individualized analysis, is arbitrary, capricious, and unreasonable," he added. "As such, each classroom teacher amongst the Panel Petitioners is entitled to a religious exemption from the Vaccine Mandate."
As a result of the ruling, these ten teachers were given their jobs back, as well as back pay for all of the time they missed after being fired.
In response to this legal victory, Sujata Gibson, lead attorney for the plaintiffs said that the "decision not only grants relief to these ten teachers, but it also sets an important precedent for all other teachers denied religious accommodation.
"The judge's ruling yesterday, while not everything we wanted, is a precedent-setting victory," Gibson added. "The court's ruling in the class certification still leaves the door open to future relief for thousands of teachers negatively affected by the vaccine requirement. We intend to file a motion of reconsideration on a narrower basis."
A major step in the right direction
Although the ruling in New York is a major victory, as Gibson points out, there is still much work to do.
As it stands, there are thousands of workers all across the nation who were terminated as a result of their refusal to get vaccinated.
However, the fact that this ruling came out of the Democrat-controlled state of New York shows that anything is possible on this front.
US Political Daily will keep you updated on any developments to this ongoing story.