Democrats have been waging a war on Christmas for decades.
It's so out-of-control Bill O'Reilly previously featured a recurring segment on the topic back when his O'Reilly Factor show was on Fox News.
But now failed Democrat candidate Stacey Abrams' new mission in life is to replace Christmas with this woke holiday.
The Peach State's actual election denier
As one of the most woke state legislators in the entire country, two-time failed Georgia Democrat Gubernatorial candidate Stacey Abrams has tried to move the state to the extreme Left for over a decade.
After serving as Minority Leader in the Georgia State House of Representatives, Abrams tried to expand her power and influence by running for Governor in 2018.
She lost the gubernatorial race that election cycle, but continues to deny the election's results to this day, as she still claims she won.
Abrams ran for Governor again in 2022 – and lost again, though she refuses to concede defeat.
However, the one-time Star Trek President of United Earth finally has a real woke victory to celebrate even though she had no direct impact on scoring the win for Democrats' extremist war on Christmas.
Christmas Eve vs. Juneteenth
The Washington Free Beacon is reporting that one Peach State hospital has added Juneteenth as a paid day off for employees.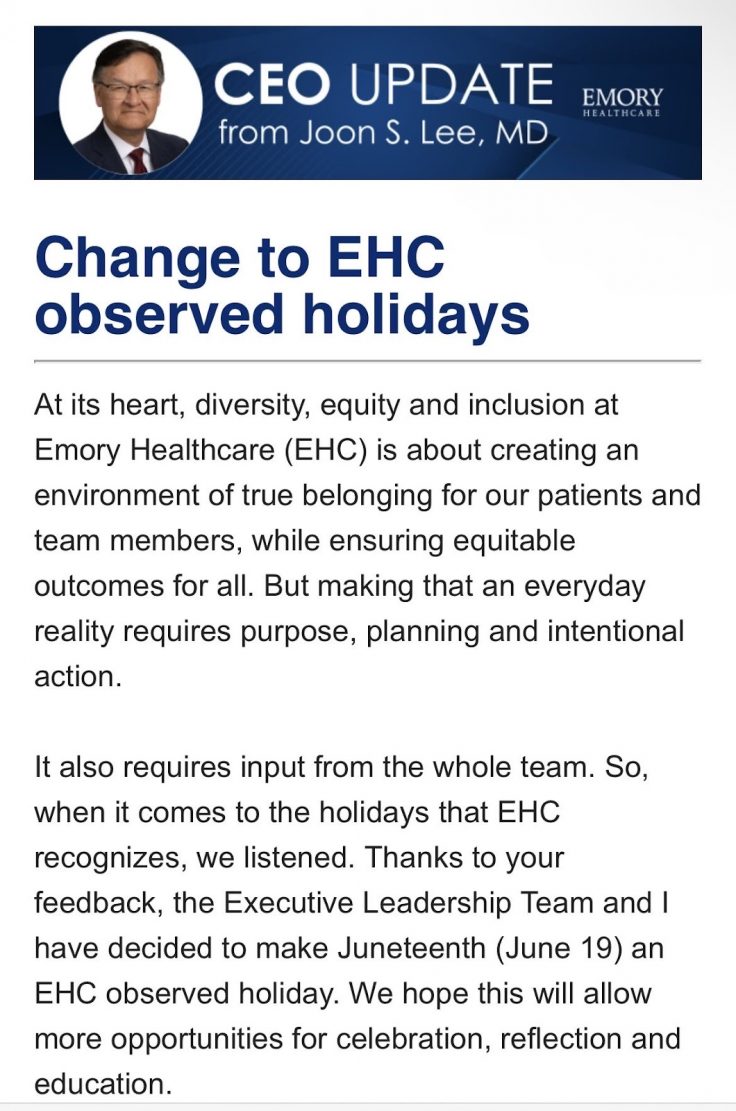 Workers were likely rejoicing over the idea of having another day each year that they get paid to stay at home, or receive holiday pay if they have to work.
That is, until they realized what they had to give up in exchange for the Juneteenth Holiday.
According to the Free Beacon, starting in 2024 Emory Healthcare is removing Christmas Eve as one of the hospital's paid days off to make room for Juneteenth – which wasn't a nationally recognized federal holiday until 2021.
The new policy will force medical professionals and first responders to use some of their annual paid time off if they want to spend Christmas Eve with family.
And if they're scheduled to work on the long-time traditional American Holiday, those doctors, nurses, EMTs and other hospital staff won't receive the Holiday pay they've earned in the past.
"Equity" strikes again
The hospital's CEO says the change is being made in the name of one of the woke Left's favorite buzzwords, "equity."
"We hope this will allow more opportunities for celebration, reflection, and education," Emory Healthcare CEO Joon Sup Lee wrote in an email to employees. "Diversity, equity, and inclusion at Emory Healthcare (EHC) is about creating an environment of true belonging for our patients and team members, while ensuring equitable outcomes for all."
And while woke extremists, like Abrams and Dr. Joon Sup Lee, who works at the hospital, celebrate Juneteenth replacing Christmas Eve, not everyone is as pleased.
"I think, in general, everyone at Emory is pretty frustrated right now," an Emory healthcare provider told Atlanta News First. "You can't replace one for the other. It's completely inappropriate. It's essentially pitting a Christian holiday against something that's to be celebratory for everyone – but specifically for our Black colleagues."
Even NAACP DeKalb County President Edwina Clanton is unhappy with the Atlanta-area hospital administration's decision.
"I'm sure it will put anger in some hearts," Clanton said. "Why do we have to do this? Why can't we have our old holidays off?
According to Sup Lee, Emory Healthcare offers nine paid holidays compared to other area medical centers that only offer six.
Sup Lee added that to avoid declines in patient care, the hospital had to sacrifice one holiday to make room for Juneteenth – and they decided to give Christmas Eve the boot.
US Political Daily will keep you up-to-date on any developments to this ongoing story.