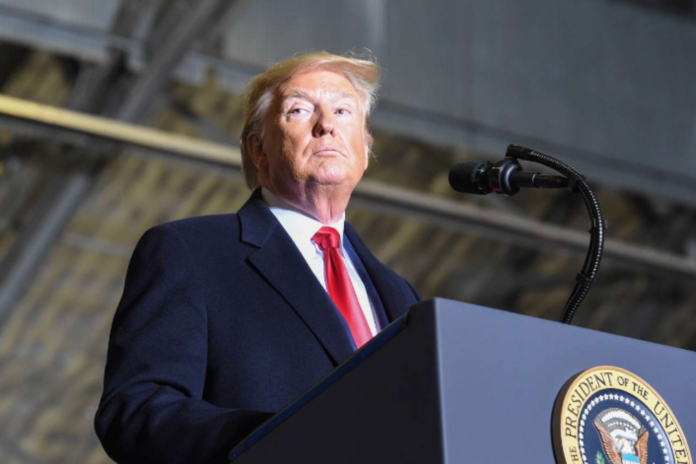 Donald Trump is just starting his third Presidential campaign and he's made it clear he still wants to take on the globalist ruling class elites.
He's been railing against failed international diplomacy, open borders, and called out the global elites at the World Economic Forum directly.
Now Donald Trump just promised to end one reckless "woke" practice to protect Americans' retirements.
Trump says ESG plans are promoted by "sick" people
Former President Donald Trump released another campaign video last week in which he attacked woke-minded investment strategies that are weakening Americans' retirement earnings.
He reminded his base that he restricted certain funds from focusing on Environmental, Social, and Corporate Governance (ESG) portfolios.
He warned that what they were seeing was a major scam perpetuated by "sick" people.
"These poorly performing woke financial scams are radical left garbage that would never be funded on their own and certainly never be funded on their own merits," Trump said. 
Trump is looking to rebuild his momentum on a tried-and-true populist message.
The former President promised that, if elected, he would take swift action in the form of executive orders to deal with these issues and protect the American people again. 
He knows one of his biggest selling points is to heal the financial wounds of the country. 
ESG is a "scheme" and is meant to "funnel" your money
Trump reminded everyone of his "historic rule banning Wall Street employers from pouring your 401ks, pensions, and retirement accounts into so-called ESG… investments, for political reasons."
He said that "the entire ESG scheme is designed to funnel your retirement money to the maniacs on the radical Left. The rule we issued under my leadership was the first ESG ban anywhere in the world."
Trump is right to be critical of ESG-centric funds.
ESG standards go far beyond finance, and focus on things that ignore stockholders to deliver for stakeholders.
Stakeholders are quite literally everyone on the planet who could be affected by the product, meaning catastrophic consequences for oil, gas, and other major industries.
Trump said that it was unfortunate that "Joe Biden gutted [his] ESG rule, and now his Department of Labor has declared that fund managers can play politics with our seniors' hard-earned savings." 
He warned that President Biden is "trying to use your money to fund fringe left wing causes at your expense" and that the American people are "paying the price for all of this, and it's destroying our country."
Trump went on to explain why things are getting better.
Trump effectively promises to ban ESG "forever"
The former President touted his influence in politics across the country, claiming that he is leading a revolution against ESG standards.
"I'm delighted that Republicans in Congress and across the country have been waking up to this threat and following my lead," Trump said.
He went on to promise that if he is re-elected, he "will sign an executive order and, with Congress's support, a law to keep politics away from America's retirement accounts forever," and "will demand that funds invest your money to help you not them."
This message is surely going to resonate with a large percentage of working class Americans, who are currently facing depleted retirements, and record-high prices everywhere else.
US Political Daily will keep you up-to-date on any developments to this ongoing story.