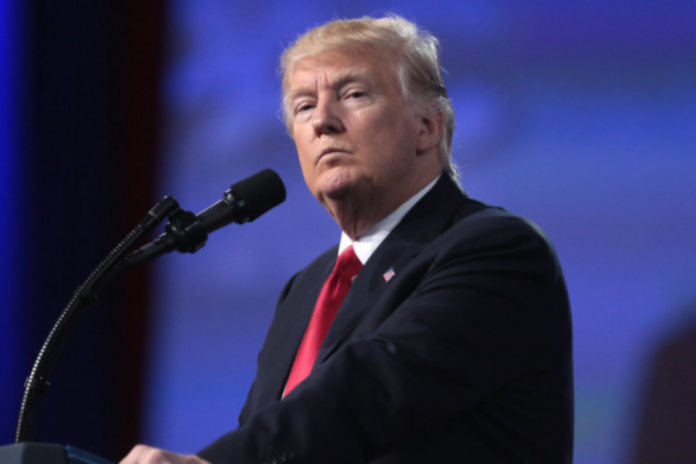 Even though Donald Trump is far ahead in the polls for the GOP presidential nomination, the former President still has some worries about the race getting away from him.
That led to remarkable moment.
And President Donald Trump just made this unthinkable confession that his supporters can't believe.
Trump is still addressing criticism over his administration's response to COVID – specifically Trump's decision to empower Doctors Deborah Birx and Anthony Fauci.
Many conservatives believe both Birx and Fauci were responsible for the government's response to COVID.
Radio host Hugh Hewitt confronted Trump with the criticism leveled by Florida Governor Ron DeSantis that Trump should have fired Fauci.
DeSantis argued that if he was in that position, he would have shown Fauci the door.
Trump's answer turned heads.
"First of all, you're not allowed," Trump stated.
When Hewitt protested, Trump claimed civil service protections tied his hands and then Trump tried to downplay Fauci's involvement in the Trump administration's COVID response – apparently taking all the "credit" for "15 days to slow the spread" for himself.
"No, no, no, Dr. Fauci was there. First of all, he's civil service, and you're not allowed to fire him. But forget that because I don't necessarily go by everything … but Dr. Fauci would tell me things, and I wouldn't do them in many cases. But also, he wasn't a big player in my administration. Dr. Fauci became a big player in the administration of Biden. He's a very big player in Biden's administration," Trump added.
But Trump could have asked the Director of the National Institute of Health Dr. Francis Collins to fire Dr. Fauci.
If Collins refused, Trump could have fired him, and asked Collins' replacement to sack Fauci.
Trump also clearly empowered Dr. Fauci early on in the pandemic, holding press conferences with him.
And President Trump listened to Fauci on "15 days to slow the spread" and again on extending the lockdown measures to May.
But Trump also hit DeSantis on his COVID record noting that unlike other Republican governors who never ordered a shutdown, DeSantis did impose a brief lockdown on Florida DeSantis later admitted he regretted – something President Trump has never done.
"It's so easy to respond," Trump added. "[H]e has a selective memory. He shut down. [Gov.] Henry McMaster didn't shut down South Carolina. [Gov.] Kristi Noem didn't shut down South Dakota."
Governor DeSantis criticized Trump for supporting Operation Warp Speed, which produced the COVID vaccine that Joe Biden, woke corporations and Democrat governors tried to mandate.
Trump told Hewitt that DeSantis was also an early cheerleader for the vaccine while opposing mandates.
"He had vax lines. He was vaxxing everything. Now, he talks about the vaccinations this and that," Trump continued.
If DeSantis has a chance to get back into the race, it is by winning Iowa where COVID lockdowns, mask mandates, and vaccine requirements are deeply unpopular.
Trump's lead in Iowa is smaller than in the national polls.
That is due in large part to discontent over Trump's initial COVID response.
Trump tried to shore up those concerns in his interview with Hugh Hewitt.
But it will be up to voters to decide if Trump successfully made the case.
Deplorable Daily will keep you up to date on any new developments in this ongoing story.